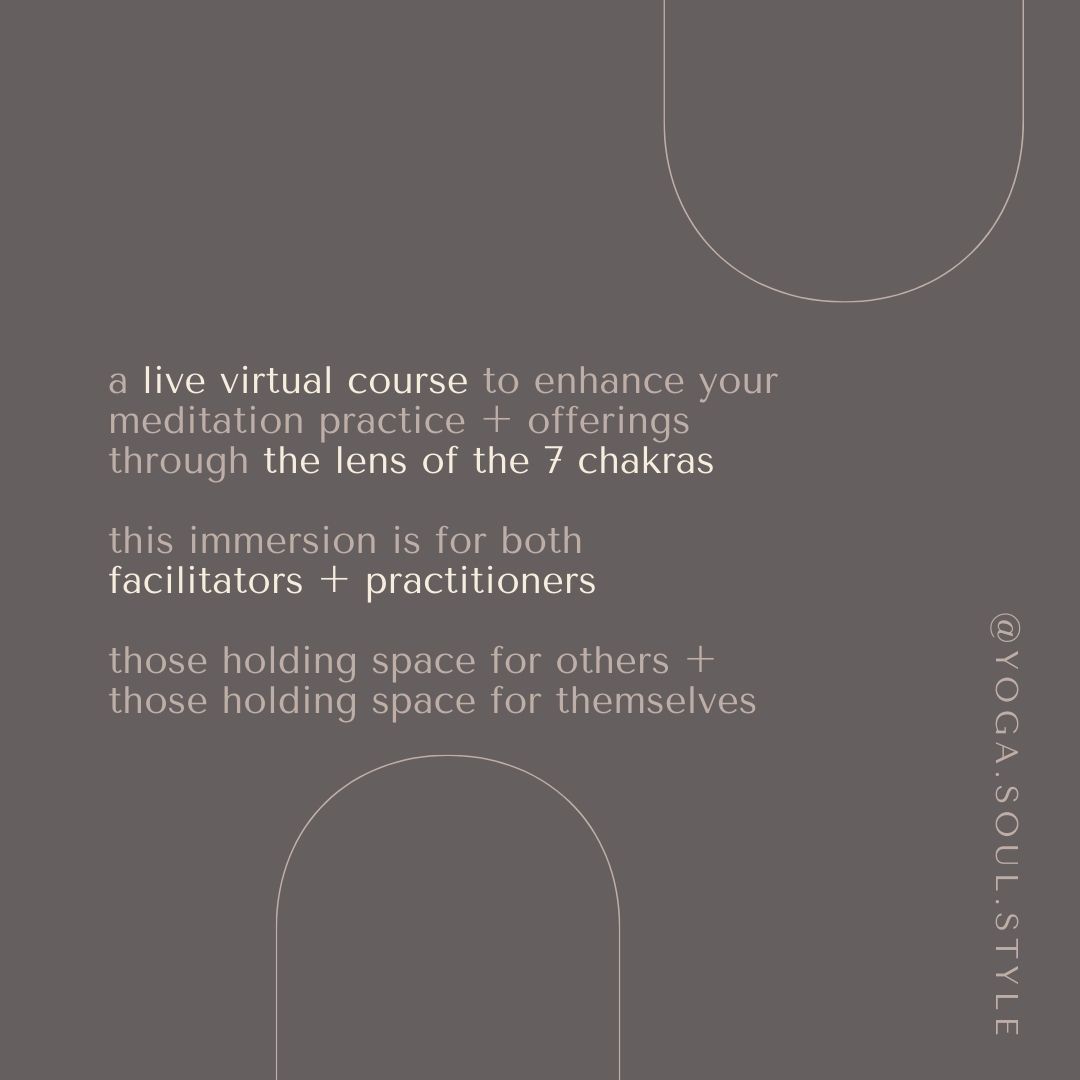 THIS COURSE WILL TEACH YOU:
the chakras as a roadmap to self-discovery:
-the foundational elements of each of the 7 chakras
-how to determine which chakra is needing support
-how to utilize the chakras as a framework for healing
practices and rituals to explore your inner landscape:
-meditation and mindfulness methods for each of the chakras
-how to integrate various elements to further enhance your practice, such as breathwork, mantra and mudra 
-tools for designing and creating a practice unique to your needs or to support your clients 
-corresponding crystals and essential oils for each chakra 
TUESDAYS / 7-9PM EST / DEC 7-21
Week 1: 
-root: practice in grounding: to keep you anchored
-sacral: practice in adaptability: to stay fluid in emotions
Week 2: 
-solar: practice in empowerment: to affirm your inner authority 
-heart: practice in compassion: to stay open and receptive 
Week 3: 
-throat: practice in expression: to be seen and heard 
-third-eye: practice in intuition: to connect to your inner senses
-crown: practice in awareness: to access your innate wisdom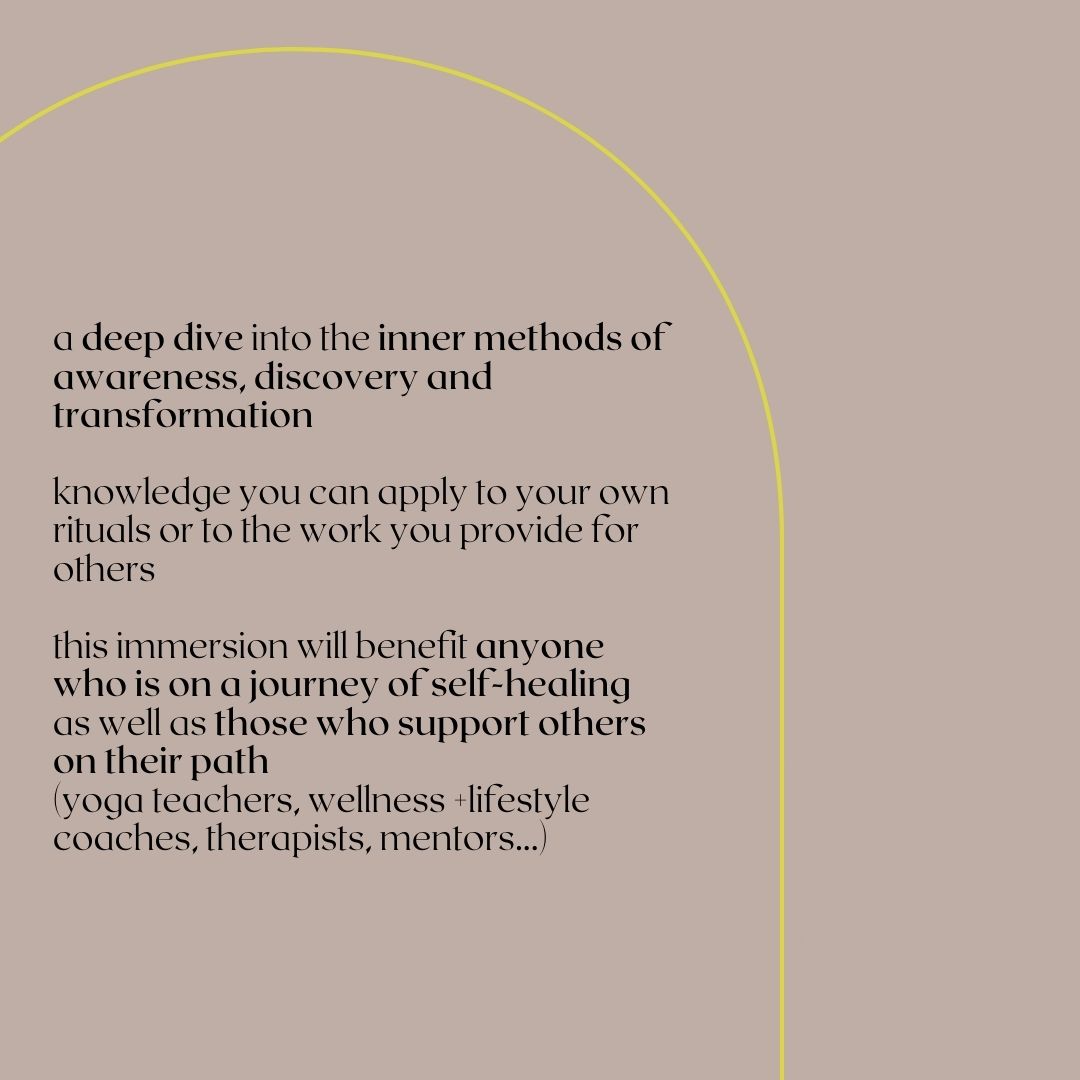 YOU WILL RECEIVE:
-live interactive zoom sessions
(all are recorded and are yours to keep) 
-live guided meditations within each session 
-beautifully designed chakra handbooks to keep as an ongoing resource
-a one-page "cheat sheet" for each chakra center for easy reference in your planning
-self-study assignments to go deeper in your practice and application 
-additional recommended practices + rituals to do on your own 
-journal prompts for additional insight and exploration 
-community and connection, a safe and supportive environment for inner and outer exploration 
-access to Kelly throughout the immersion for additional support and feedback 
-1 free month of Ritual Lab, Kelly's virtual yoga + mindfulness membership portal (for non-members)
YOU WILL LEAVE THIS IMMERSION WITH: 
-deeper awareness + relationship to yourself and those around you
-greater understanding of your inner workings and how you move through life 
-tools + practices to flow with more ease in your day to day 
-the ability to more readily access and connect to your inner wisdom + intuition 
-simple but effective practices that can be applied when challenges arise 
-an increased capacity to stay more present and balanced within the natural ebb and flow of life 
-connection and community to build your network of support 
FOR FACILITATORS:
-tools + practices that you can easily integrate into your current client and/or group offerings
-knowledge of the chakra framework to apply and uplevel your unique offerings
-ability to create impactful offerings that will foster a deeper connection to your clientele 
-authority and confidence in being able to support your clientele on all levels 
*For those seeking continuing education hours for Yoga Alliance, this training is YA approved and eligible for 8 CEU
FOR PRACTITIONERS:
-tools + practices that you can easily integrate into your daily rituals
-knowledge of the chakra framework to apply to your life experience
-ability to create your own practices suited to your needs
-authority and confidence in supporting yourself through life's ups and downs
YOUR COMMITMENT: 
-Three 2-hour live zoom sessions
-self-study/practice hours to deepen your understanding and develop self-led practice
-recorded practicum submitted for feedback (this is required if you're seeking YA credit for this course OR if you'd simply like a constructive and practical assessment of your teaching- this is THE MOST effective way to grow as a facilitator)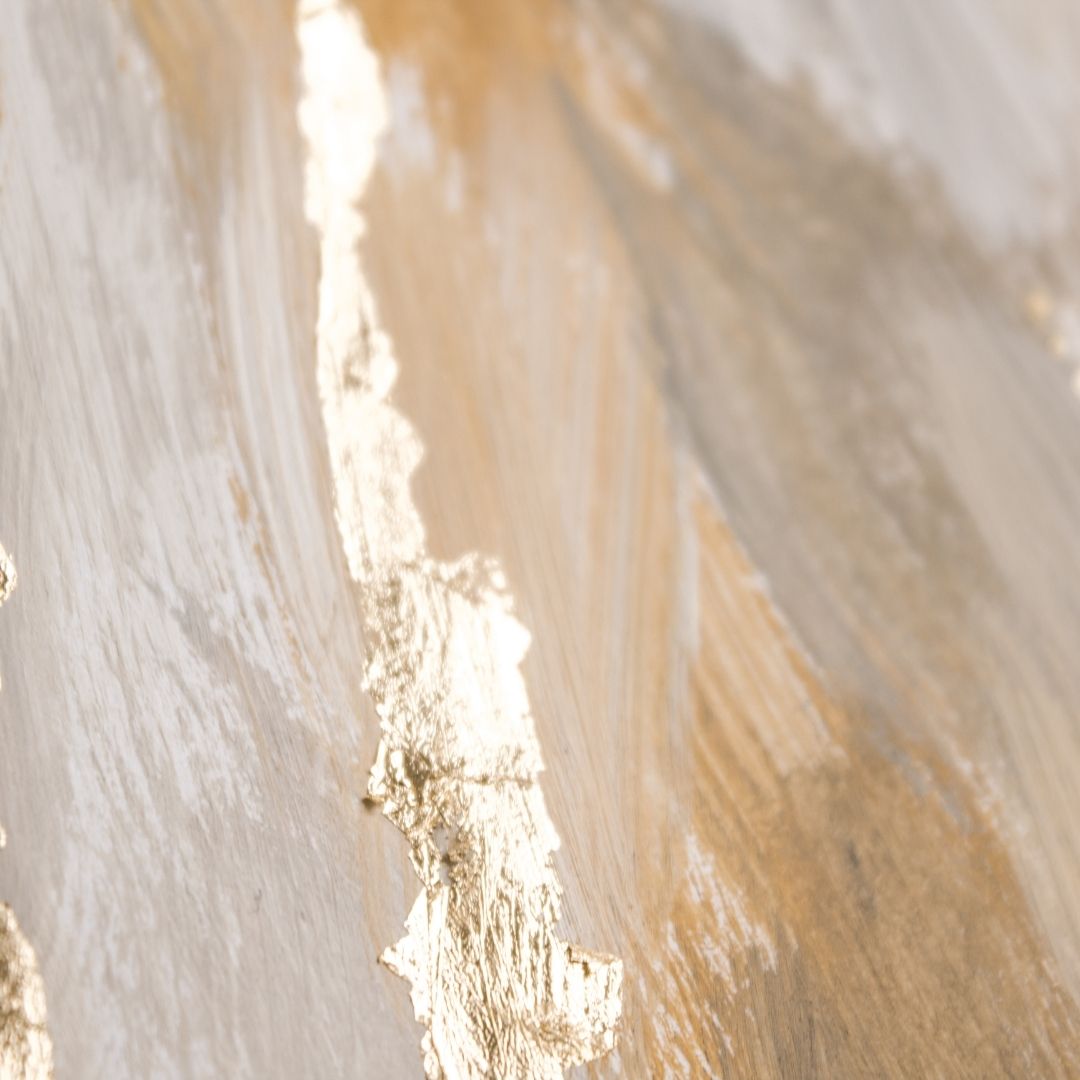 "Kelly is an incredible leader and her courses are comprehensive, engaging, and organized. She supported me in diving deeper into my own practice so I can plan my offerings more consciously and confidently." -Emily S.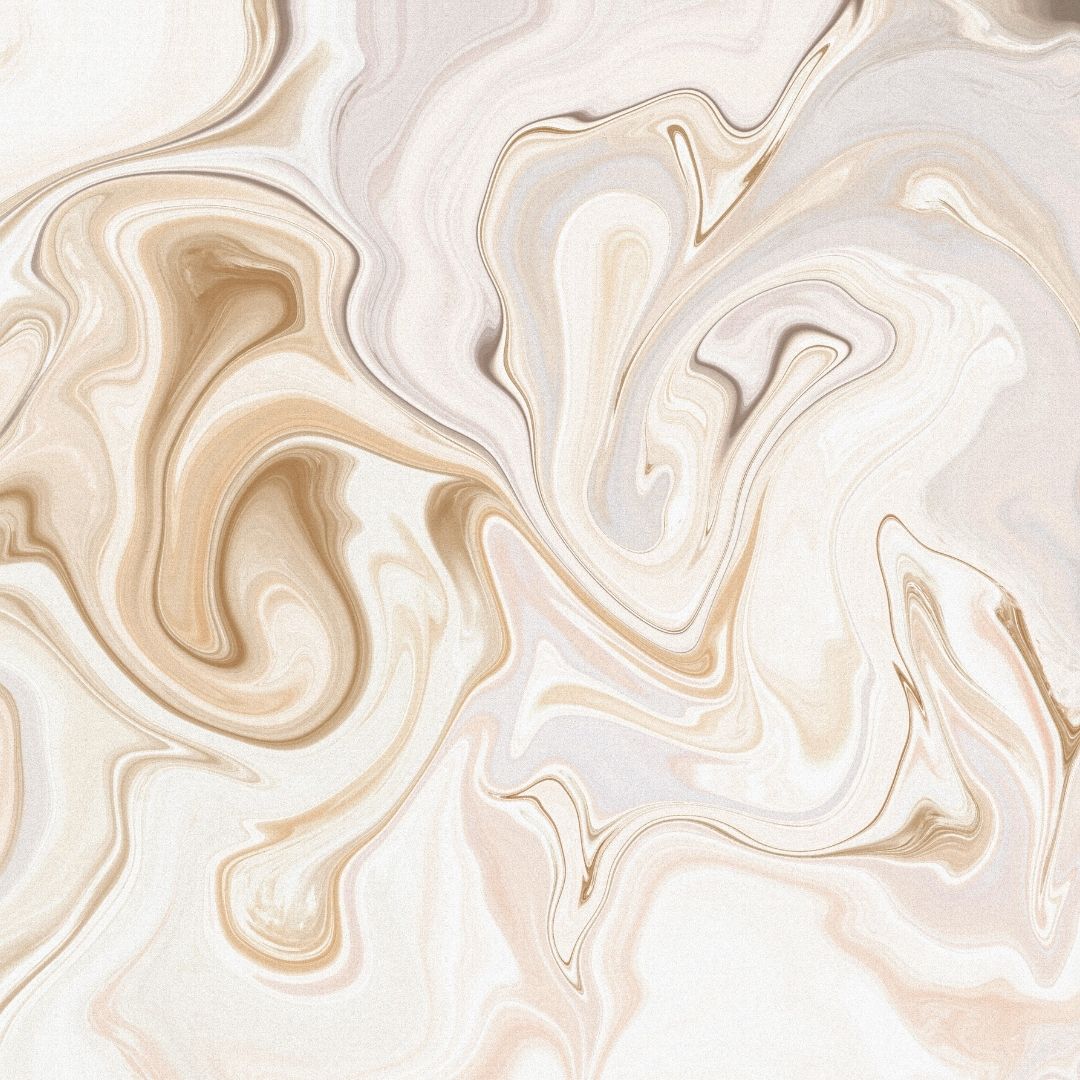 Take Your Practice to the Next Level
"Kelly is incredibly knowledgeable about all aspects of yoga- She is the best to learn from if you would like to take your personal yoga practice or teaching to the next level." -Ashley C.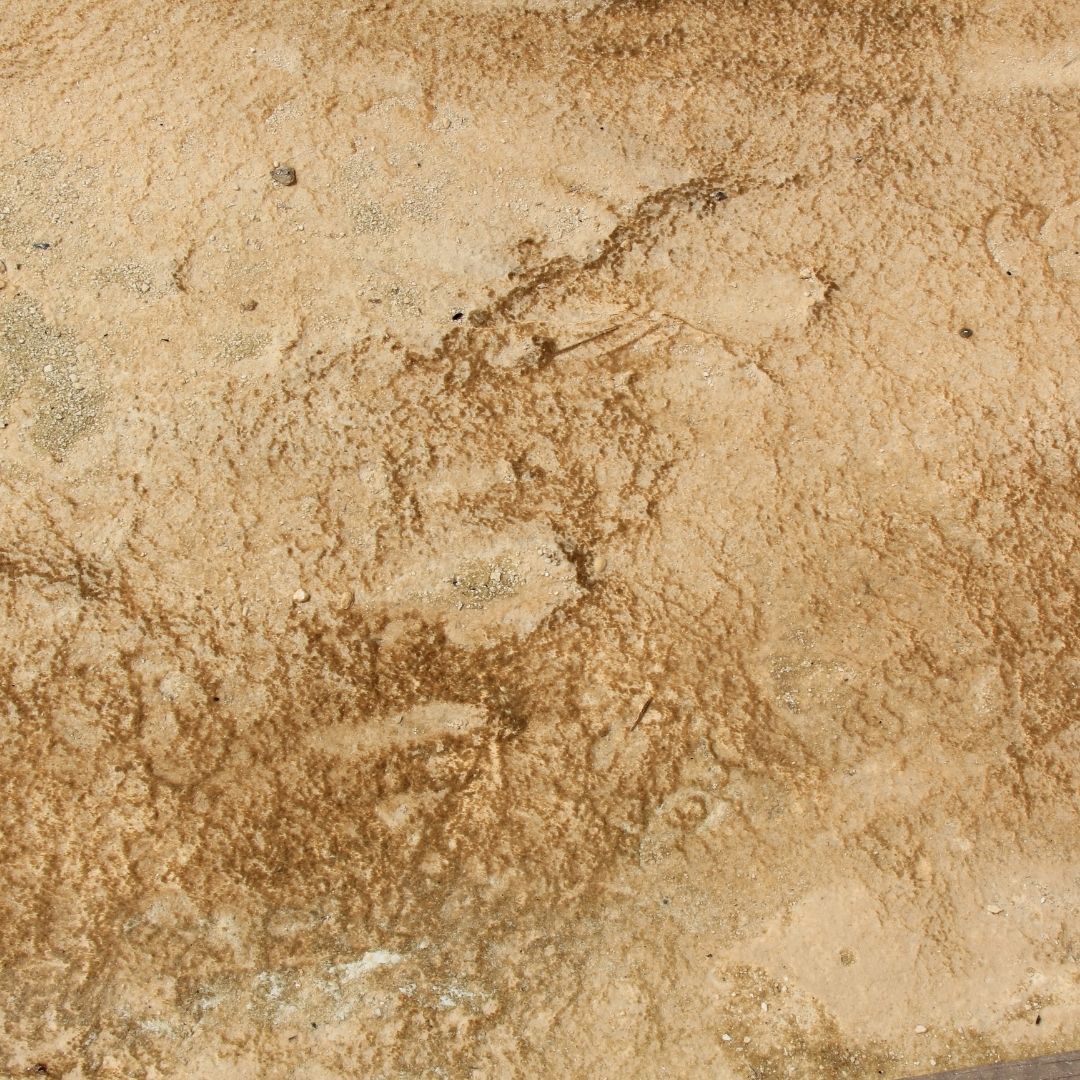 "Kelly has such an amazing way of bringing a group together and fostering an environment of trust where as a newbie I felt completely comfortable sharing with others." -Kelly S.